This year is the FIRST year I am going Black Friday shopping... check in with me in a couple days to make sure I am not in jail ;)
The EXACT things I wanted to get my nephew for Christmas are available during Black Friday and I am SUPER excited to go fight off some crazies for it!!! But this is definitely where I LOVE online shopping!!!!
The pack and I are teaming up together to bring to you our most wanted products from Teachers Pay Teachers as well as some ideas from our store for you.... and A GIVEAWAY!! WOOOO!
So below are things in MY WISHLIST that are definite MUST HAVES for the Black Friday sale!
1.
Ashleigh
- 3rd-5th Grade Reading Workshop Unit 4.. I have the other 3 and this is AMAZING! It's a curriculum in itself. She has really out done herself!
2.
Deb Hanson
- I am obsessed with ALL of her powerpoints! They are the best review for my kiddos teaching a strategy or grammar.
3.
Teaching with a Mountain View
- There's a reason she's a top seller. Her task cards - perfection!
4.
Miss DeCarbo
- I love her text based evidence sheets. They teach my kiddos to go back to the text and that is something they struggled with before her products!
5.
Jivey
- This is a LEGIT better than basal product. I have had it on my wishlist for awhile since it's a higher priced product, BUT it's so worth it!!!
NOW FOR MY PRODUCTS THAT I LOVE LOVE LOVE!
You can find all of these in my store!!!! Look around if you haven't been before. They're the best!!!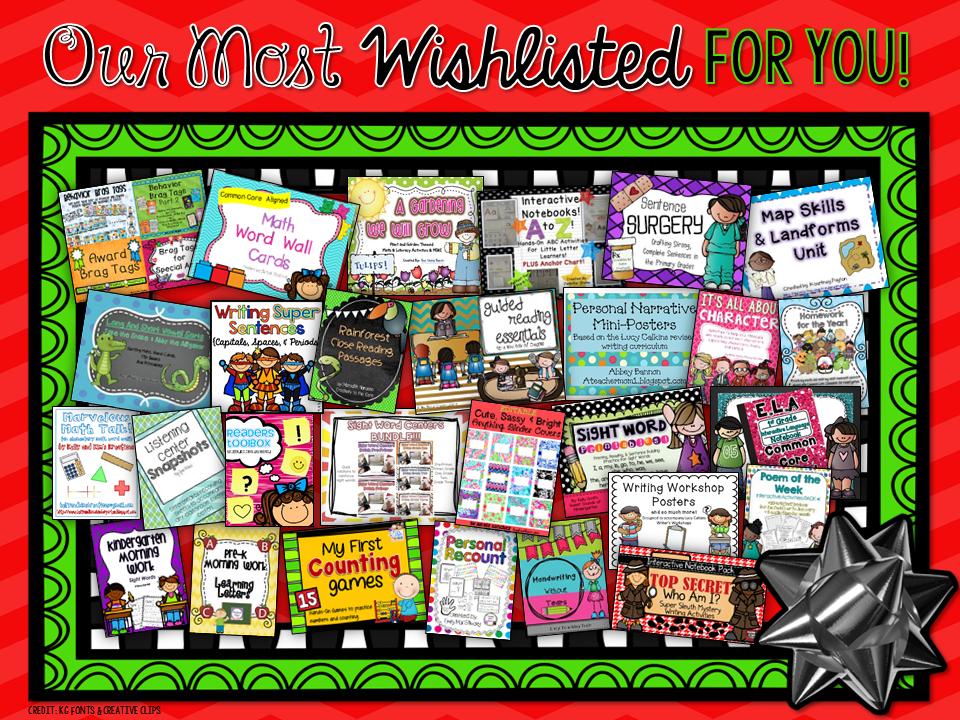 Drumroll please.... Check out this HUGE giveaway package you can win by entering below! There is a resource from almost everyone in The Primary Pack, perfect for all primary grades!! Good luck, friends and happy shopping!

a Rafflecopter giveaway



Now It's Your Turn To Join The Fun!

Just a few rules to follow and your on your way:
1. Download the images above!
2. Add your favorite sellers products in your TpT cart to the "My Black Friday Wishlist"
3. Add your own products to the "For Your Black Friday Wishlist"
4. Link up below to share your Black Friday Wishlists!
5. Don't forget to enter our fabulous giveaway above AND visit others linked up below!
​